Wednesday's Readings
Academia
An excellent investigative article at
USA Today
on the use of student fees (often hidden ones) to pay for college sports programs: "
How student fees boost college sports amid rising budgets.
" A must-read for anyone interested in the current financial state of American colleges and universities.
Mind
Ferris Jabr has an excellent article at
Scientific American
on a new study that examines two rare cases of illusory body perceptions: "
Me, Myself and My Stranger: Understanding the Neuroscience of Selfhood.
"

Language
Joshua Hartshorne at
Games With Words
writes
on the "great divide" in linguistics over models of language, a divide represented by two articles in the August issue of
Cognitive Science
: the "traditional" model (represented by John Hummel) in which "thought and language is deeply symbolic and involves algebraic rules," and "more recent" models based on associative learning (represented by Michael Ramscar). The fur flies in the comments, which is perhaps the best demonstration of the depth of the divide.
[Editorial aside: it's perhaps indicative that Hartshorne wrote "thought and language is," as if they are somehow one and the same thing.]
The two papers are:
John E. Hummel, "Symbolic Versus Associative Learning," Cognitive Science 34:6, 958-965

Michael Ramscar, "Computing Machinery and Understanding," Cognitive Science 34:6, 966-971
Hummel is responding in part to an article in the same issue by Ramscar et al. (where "et al." includes Melody Dye of
Child's Play
), "
The Effects of Feature-Label-Order and Their Implications for Symbolic Learning
," pp. 909-957.
Unfortunately, all these articles are behind a paywall at Wiley, presumably to keep out the riff-raff (like me). So I won't be reading them any time soon.
*
Chris at
The Lousy Linguist
has posted
part 2
of his review of Guy Deutscher's book on linguistic relativism,
Through the Language Glass
. Part 1 of the review is
here
.
Part 2 looks at the science behind the second half of Deutscher's book, dealing with the alleged influence on language on thinking about spatial coordinates, gender, and color. Chris is mostly underwhelmed.

Restitution
Yet another case of restitution currently bogged down in the Austrian bureaucracy, this one having to do with Egon Schiele's painting,
Mutter mit zwei Kindern III
, originally from the collection of Jenny Steiner, and now in Österreichische Galerie
;
see the
report
at
Der Standard
.
*
Literature
Elif Batuman writes in the latest
New York Times Magazine
on the very messy case, currently wending its way through the Israeli courts, over the disposition of a large cache of Franz Kafka's papers from the estate of Max Brod ("
Kafka's Last Trial
"). A fascinating and rather bizarre (Kafkaesque?) story.
A key figure in the case is Eva Hoffe, one of the daughters of Esther Hoffe, Brod's secretary and (it is widely thought) lover. Septuagenarian Eva Hoffe lives in an apartment full of cats (the number is variously estimated at 40 to 100) at 23 Spinoza Street in Tel Aviv, where she may also keep some of the disputed papers.
Music
Peter Uehling gives a
round-up
of the concerts at Musikfest 2010 in Berlin celebrating the 85th birthday of Pierre Boulez.

Film
Oskar Roehler's film
Jud Süß — Film ohne Gewissen
purports to tell the story of actor Ferdinand Marian, who played the title role of Joseph Süß Oppenheimer in Veit Harlan's notorious anti-Semitic propaganda film,
Jud Süß
(1940), commissioned by Joseph Goebbels. Roehler's film was heavily criticized after its debut at the Berlinale film festival in February for, among other things, distortions of historical truth. For example: in Roehler's film, Marian is given a Jewish wife, whom Goebbel's uses as a lever to force Marian to take the role in Harlan's film. In reality, Marian's wife Maria was an "Aryan" Catholic.
After the premiere in February, the President of the Zentralrat der Juden (the central council of Jews) in Berlin asked that the film be banned.
The film is now in more general release in Germany; there are critical reviews by Andreas Kilb at the
Frankfurter Allgemeine
("
Misslungen: Oskar Roehlers 'Jud Süß
'") and Andreas Rosenfelder at
Welt Online
("
Ein Film mit Gewissenbissen
"). Also at
Welt Online
, Hanns-Georg Rodek
interviews
Klaus Richter, author of film's screenplay.
From The New Yorker
Unusually, I had a few spare minutes on Wednesday to read the 20 September issue of
The New Yorker
(of which I have stacks of unread recent issues...unread for lack of time, not lack of interest). Two highly recommended items (in addition to Lawrence Wright's excellent
short essay
on the "mosque at Ground Zero" hullabaloo):
Jose Antonio Vargas's profile of Facebook-founder Mark Zuckerberg.

Joan Acocella's extensive review of Sjeng Scheijen's new biography of Sergey Diaghilev, which sounds like a must-read (a subscription is required to read the entire review).

&c.
xkcd
on bad exes.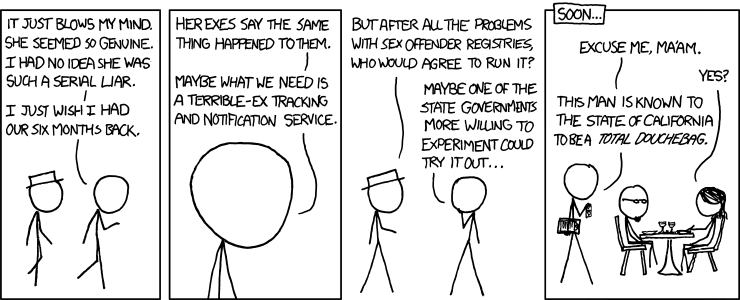 "Serial liar": yup, I had one of those....and I've often thought it would be a public service to let other potential victims know. In my case, there are perhaps various embassies that I should contact....
Wortschatz
schmierig
zerdeppern
entlarven
zerrütten
tolpatschig
vergeuden
schablonenhaft
fahrig
plakativ (a "false friend"; it doesn't mean what an English-speaker is going to guess it means)